About Therevox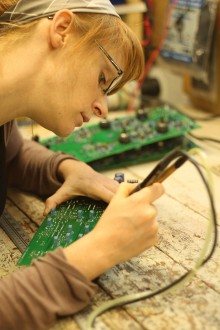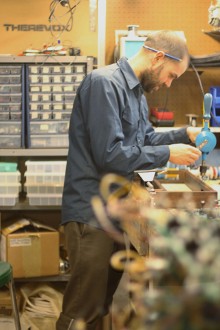 Therevox began building custom instruments in 2004 with the ET-1, a modern version of the unique Electro-Theremin heard on The Beach Boys' "Good Vibrations". In 2008 a limited edition of twelve updated ET-3's went to musicians and studios in North America and Europe.
In 2012 we released another continuous pitch analog instrument inspired by the Ondes Martenot and early analog synthesizers. The ET-4 has shipped to customers around the world and has been featured on several albums and film soundtracks. We added custom features to some of these instruments for our customers, and in 2013 we combined these features to become the ET-4.1, ET-4.2 and ET-4.3
Craftsmanship and Design
Every instrument is handcrafted with pride from quality materials and components. We select wood for the nicest grain, mill it in our own workshop and finish it by hand. Soldering, testing, calibrating and assembling the electronics is also done in our workshop.
We work with our customers to design instruments that are intuitive, versatile and built to last. If you have any questions or comments, please contact us or visit us on facebook.